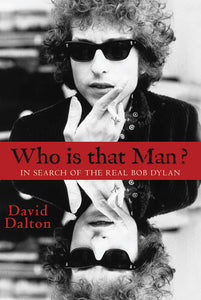 By David Dalton
Even after five decades in the spotlight, Bob Dylan remains as relevant as ever. He continues to sell out shows on a never ending tour and his 2009 album, Together Through Life, was both critically praised and debuted at number one on the Billboard 200.
His two previous albums, Modern Times and Love and Theft, reached platinum and gold, respectively.
This book is published to coincide with the 50th anniversary of Dylan's first album Bob Dylan. Few American artists are as important, beloved and endlessly examined as Bob Dylan, yet he remains something of an enigma.
Now, veteran journalist David Dalton paints a revealing portrait of the rock icon that will be a must-have for his legions of fans. In this biography, he interviews a whole new group of family, friends, and collaborators to shed light on this fascinating star.
Includes exclusive interviews with Joan Baez, Keith Richards, Bobby Neuwirth, Kris Kristofferson, Suze Rotolo, Clive Davis, Tom Petty, and many others, and will provide a new perspective on the man, the myth, and the musical era that forged them both.
Publication Date: 14.05.12
ISBN: 9781780385464
Extent: 416 pages
Format: Hardback
***Please note, if out of stock at our warehouse, this title can be purchased at all good high street and online booksellers***