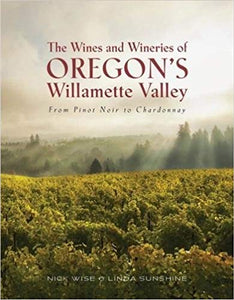 By Nick Wise and Linda Sunshine
Following the success of their books Celebrity Vineyards (2013) and California Celebrity Vineyards (2016), authors Nick Wise and Linda Sunshine have turned their attention to Oregon s Willamette Valley to reveal the fascinating tale of how this region went from farming nuts and Christmas trees to the ever elusive Pinot Noir grape, and evolved into a billion-dollar wine empire in less than 50 years. Today Oregon is recognized as one of the world s premier producers of Pinot Noir wines and Chardonnay is thought to be next.
Here are the stories behind of some of the valley s most influential and important winemakers, from the daring and prescient early pioneers, who drove their VW campers to Oregon in the sixties and seventies and risked it all in pursuit of a dream; to the second generation of vintners who have elevated the region s wines to new levels of global fame and success; to the legendary Burgundian winemakers, whose arrival triggered what s become known among wine enthusiasts as the French invasion. During their travels, the authors visited more than 20 outstanding wineries, where they interviewed the winemakers and experienced phenomenal private barrel and bottle tastings.
In addition to extensive tasting notes, you ll find hotel and restaurant recommendations for your own tour of the valley, along with a map of all the featured wineries.
This book is the perfect cocktail for anyone passionate about wine, especially Pinot Noir, and interested in discovering the many wineries and stories of the Willamette Valley.
Publication Date: 30.08.17
ISBN: 9781785585777
Extent: 288 pages
Format: Paperback
***Please note, if out of stock at our warehouse, this title can be purchased at all good high street and online booksellers***