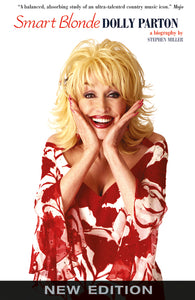 'A balanced, absorbing study of an ultra-talented country music icon' - MOJO
By Stephen Miller
In this revised edition of his definitive biography of Dolly Parton, Stephen Miller has updated his original book on the superstar.
Going behind the larger-than-life image to discover what makes Dolly tick, Miller gets to the core of a remarkable woman from a poor East Tennessee background who made it in the male-dominated world of Sixties Nashville and went on to build a respectable movie career.
Talking to Dolly's family members, musicians and producers, the author explores Dolly's private life, including her closely-guarded relationships with her husband of nearly fifty years, Carl Dean, and her lifelong friend Judy Ogle.
What emerges is a unique portrait of a strong woman who took control of her life, her music and a successful business career with resolute determination. Dolly loves making jokes at her own expense; perhaps the best joke has been how one of America's great singer-songwriters became a legend by being serious about her music while being frivolous about her image.
Dolly has been a huge star five decades. Her ability to pull in and delight large crowds remains undiminished - as many fans old and new discovered at the world's biggest open air festival in 2014.

Publication Date: 11.05.15
ISBN: 9781783056224
Extent: 464 pages
Format: Paperback

***Please note, if out of stock at our warehouse, this title can be purchased at all good high street and online booksellers***