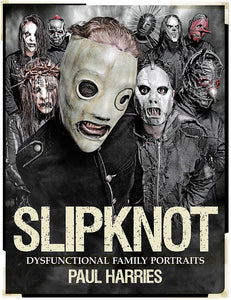 By Paul Harries
Slipknot, the instantly-recognisable heavy metal band from Des Moines, Iowa, shot to fame after the release of their first album in 1999, grabbing the attention of millions of adoring fans, and some not-so-adoring conservative commentators. From the first, Paul Harries photographed them on stage, backstage and through artistic eyes, and Dysfunctional Family Portraits is a fascinatingly creative look at this distinctive band.

The name Dysfunctional Family Portraits perfectly sums up the band, a dysfunctional melee of chaos and aggressive music, while the humans behind the monstrous masks remained truly close, and their camaraderie comes across in these intimate photographic portraits. The energy and chaos of their live shows is particularly well-captured by Harries' brilliant shots, showing them in their natural habitat: that of loud, sweaty, energetic and adrenaline-fuelled music.

Throughout Dysfunctional Family Portraits, Paul Harries guides the reader on a journey from Slipknot's beginnings with their truly terrifying masks and red boiler suits, through their changing looks and their artistic developments. As Paul Harries says, being a rock photographer is not an easy task. You have to be able to capture personality and the essence of a musical style in a visual medium. But photographing Slipknot is a whole new endeavour, capturing masked madmen straight out of a horror film while maintaining order among the chaos must have been difficult, but the brilliance of this book is testament to his ability as a photographer.

Featuring full colour photographs of Slipknot throughout their journey as a band, you will get to see exclusive backstage antics, dynamic shots of their legendary live shows, as well as hundreds of other behind-the-scenes pictures and words from Harries and members of the band.

Perfect for a Slipknot fan, but also ideal for anyone interested in modern heavy metal music or even darkly comic theatrics. A ridiculously entertaining band, the vibrant photographs in Dysfunctional Family Portraits are full of life and full of the energy that Slipknot, as a band, have transmitted through their music.
Publication Date: 11.05.15
ISBN: 9781783051885
Extent: 160 pages
Format: Paperback
***Please note, if out of stock at our warehouse, this title can be purchased at all good high street and online booksellers***