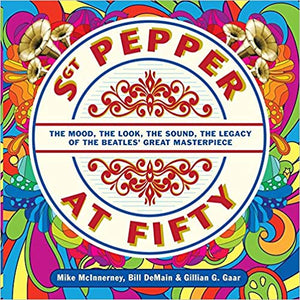 By Bill Demain, Gillian Gaar & Mike McInnerney
Five decades on from its release at the height of the Summer of Love in 1967, Sgt Pepper's Lonely Hearts Club Band remains a keystone not just of the Beatles' career but also of popular music as a whole.
Widely regarded as one of the greatest albums of all time, it is a record soaked in, and thrillingly evocative of, the sights, sounds, and mood of the sixties at their most joyously psychedelic.
Sgt Pepper's Lonely Hearts Club Band is a distillation of all of these ideas and more: an art-pop masterwork housed in a gatefold pop art masterpiece by collage artists Peter Blake and Jann Haworth. Organized into four clearly defined thematic chapters, Sgt Pepper at Fifty brings a new perspective to the album by looking in depth at the unique cultural circumstances that led to its creation ("the Mood"); examining the rich assemblage of influences that informed its sound ("the Sound"); exploring the landmark cover art, which is still the subject of debate and intrigue today ("the Look"); and assessing the record's enduring legacy as the pinnacle of British pop ("the Legacy").
Publication Date: 15.05.17
ISBN: 9781785584442
Extent: 176 pages
Format: Hardback
***Please note, if out of stock at our warehouse, this title can be purchased at all good high street and online booksellers***