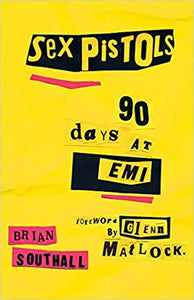 By Brian Southall
A fascinating insider's account of the notorious three months that turned the British music industry on its head.

Here is the story of how the Sex Pistols shocked and shamed EMI - the UK's most revered and profitable record company - and ended up £40,000 the richer thanks to manager Malcolm McLaren's cunning business strategy.

Author Brian Southall is the former EMI PR executive who was there during the whole infamous Sex Pistols/EMI affair. For the first time, he now tells the whole story, from EMI's signing of the Pistols in September 1967, through the notorious incident on Thames Television's Today programme, to the band's extreme behavior at London's Heathrow airport that resulted in EMI severing their 90-day-old contract.
Publication Date: 17.08.17
ISBN: 9781785585791
Extent: 160 pages
Format: Paperback
***Please note, if out of stock at our warehouse, this title can be purchased at all good high street and online booksellers***