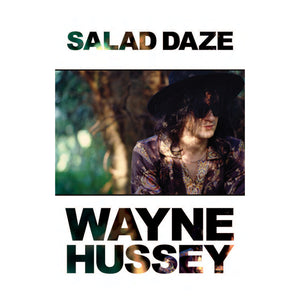 By Wayne Hussey
Best known as the divisive but iconic frontman of The Mission and a poster boy for the-then fledgling gothic scene of the 80s, Wayne Hussey has been making music since he was inspired to pick up a guitar by his childhood hero, Marc Bolan.
As he began making his name in music with The Invisible Girls, Dead Or Alive and The Sisters Of Mercy, Wayne was at first seduced and then ultimately corrupted, swapping the repression of his religious upbringing for its polar opposite: a lifestyle of total hedonism.
From his early days raised as a Mormon to being schooled in gender bending by Pete Burns, from his move to Liverpool in the late Seventies to his remaining fanaticism with Liverpool FC, Salad Daze is an all-encompassing account of Wayne's personal and musical journey up until the formation of The Mission.
Salad Daze is an unflinchingly honest portrayal of the peaks and pitfalls of a life in the music industry, told with plenty of Wayne's wit and charm qualities that helped him survive his own unrestrained ambitions to still be making music today.

'Hussey gently pulls you into his story and produces and engaging book.' Hi-fi World

'Told with wit, humour and honesty, Hussey opens up his life story and gives it back to the fans so they can experience the eye of the rock 'n' roll storm.' Vive Le Rock, 8/10

'High points are frequent and enjoyable. Hussey's transformation from shy, guilt-ridden teen to coke-guzzling axeman is meticulously detailed, with valuable insights into the personae of the late Pete Burns and the still extant Eldritch.' Record Collector

Publication Date: 20.04.23
ISBN: 9781915841070
Extent: 372 pages
Format: B Format Paperback
***Please note, if out of stock at our warehouse, this title can be purchased at all good high street and online booksellers***