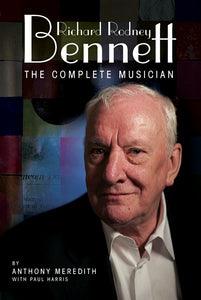 By Anthony Meredith, with Paul Harris
Sir Richard Rodney Bennett, in the enormous diversity of his activities, is arguably the most complete musician of all time. Not only does he have a remarkable 300 commissioned concert works to his credit, which have established him among the leading British twentieth-century composers, yet at the same time, with supreme success, he has also contrived to lead several completely different musical lives.

For some, he is the ultimate exponent of crossover , as epitomised in his remarkable Concerto for Stan Getz and concert works for Cleo Laine. Others remember him as a concert pianist with a special enthusiasm for pioneering contemporary music, his partnerships with Susan Bradshaw, Jane Manning and Barry Tuckwell being particularly notable.

Meanwhile, he also has over 70 film and television scores to his credit, the many classic titles ranging from "Murder On The Orient Express" and "Far From The Madding Crowd" to "Equus" and "Four Weddings And A Funeral".

For cabaret and jazz club devotees, he is, again, something completely different: one of the finest and most knowledgeable of all exponents of the Great American Songbook, a much-in-demand singer and accompanist over the past thirty-five years, and, as such, the stage partner of some of the most glamorous performers in the business.

This, then, is a book about a uniquely gifted musician. It is also a study of a most engaging personality and a fascinatingly complex human being.
Publication Date: 01.11.10
ISBN: 9781849385459
Extent: 400 pages
Format: Hardback
***Please note, if out of stock at our warehouse, this title can be purchased at all good high street and online booksellers***