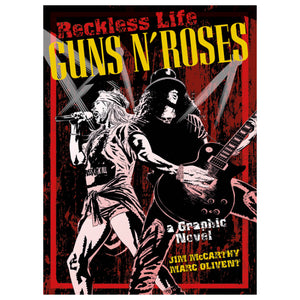 By Jim McCarthy and Marc Olivent
From the writer of Gabba Gabba Hey! The Graphic Story of The Ramones and Metallica Nothing Else Matters comes an explosive new graphic novel about 'The Most Dangerous Band in the World', Guns N' Roses.
Having sold over 100 million albums, recorded the most expensive album ever, endlessly courted controversy with their lyrics and a full-on hedonistic lifestyle, Guns N' Roses are well acquainted with rock 'n' roll excess. And it's all here: the feud between Axl Rose and Kurt Cobain, the riots during concerts, Rose's interest in Charles Manson, the acrimonious departure of Slash from the band, the inevitable drugs and groupies and, of course, the music.
Marc Olivent's stunning artwork and Jim McCarthy's incisive script perfectly capture the rollercoaster tale of Axl Rose, Slash, Izzy Stradlin, Duff McKagan, Steve Adler and the many others who have passed through the Guns 'n' Roses story.
Publication Date: 15.06.15
ISBN: 9781783054930
Extent: 160 pages
Format: Paperback
***Please note, if out of stock at our warehouse, this title can be purchased at all good high street and online booksellers***