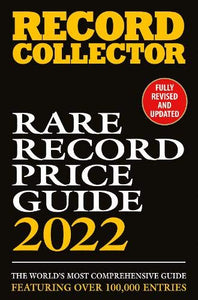 By Ian Shirley

Launched in 1987 and published bi annually - the Rare Record Price Guide 2022 is the SIXTEENTH edition of the World's most comprehensive guide to prices of UK releases from 1950 to the current day.
Compiled by the expert staff and contributors of Record Collector the World's leading magazine in the field The Guide spans every musical genre from Rock, Pop, Soul, Punk, Blues, Jazz, Disco, Acid House, Techno, Hip-Hop, Reggae, Dance, Rock n' Roll, Metal, Progressive, Psych, Indie, Country, Folk, Exotica, Soundtracks and M.O.R.
With over 100,000 entries, the 1400+ page publication provides an A to Z guide to rare and collectable UK releases with catalogue numbers, B-sides and current mint values for every UK single worth over £5, EP and 12 single over £10, LP over £15 as well as other collectable formats like 10 LPs, flexi and picture discs. Rest assured that no matter how obscure your taste you'll find the most sought after items here whether your particular obsession is Progressive rock, Dance, 70's Jazz Funk, Soul, 80s Post Punk, Hip-Hop, Reggae, NWOBHM, Northern Soul, British Jazz and collectable bands and artists from the 1950s to the present day.
Publication Date: 01.10.20
ISBN: 9781916421912
Extent: 1504 pages
Format: Paperback
***Please note, if out of stock at our warehouse, this title can be purchased at all good high street and online booksellers***