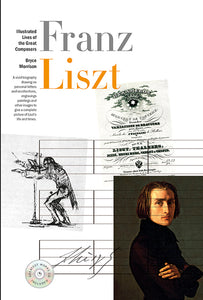 By Bryce Morrison
Arguably the greatest of all piano virtuosi, Liszt was one of the few composers of his day who had the technique to perform his own compositions. A child prodigy pianist who could read music before he could recite the alphabet, Franz Liszt is one of the most outrageously gifted and most controversial figures in classical music. Unconventional in both his approach to composing and his personal life, he had a reputation for courting hostility and riding rough-shod over other people's feelings, particularly those of his musical peers.
This lavishly illustrated book chronicles Liszt's life and times with the help of many rare photographs and contemporary prints. With numerous quotations from the people who knew him best, extracts from personal letters and diaries, this remarkable book gives an intimate picture of the composer's private life, and also investigates the complex religious and emotional forces which inspired his music.
Includes a CD featuring a selection of recordings by the composer.
Publication Date: 30.07.14
ISBN: 9781780388717
Extent: 128 pages
Format: Paperback
***Please note, if out of stock at our warehouse, this title can be purchased at all good high street and online booksellers***