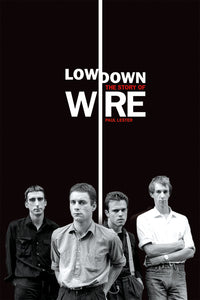 By Paul Lester
Without London band Wire, punk rock might never have developed beyond primitive three-chord thrash and cliched songs about tower blocks and dole queues.
Arguably the first art-punks, the four musicians - Colin Newman on vocals and guitar, Graham Lewis on bass and vocals, Bruce Gilbert on guitar and Robert Gotobed (Grey) on drums - evolved fast from their groundbreaking 1977 debut album "Pink Flag", with its 21 short, sharp, minimalist bursts of noise and melody. They were catalysts in the shift from punk to post-punk, paving the way for the likes of Magazine, Gang of Four, Public Image Limited and Joy Division.
Paul Lester's book tells the story of this crucial transitional band, from their early days dodging hostile crowds at punk venues like the Roxy, through their attempts to inject some arthouse experimentation and Situationist subversion into an increasingly conservative punk scene, up to their split in 1981 and beyond their mid-80s return and their various solo projects. It will take you behind the scenes and feature interviews with the original members, following them up to the present, poised as they are to come back with a brand new album and filled with a renewed sense of vigour as one of the most important bands in the last thirty years.
Publication Date: 05.05.09
ISBN: 9781847727107
Extent: 316 pages
Format: Paperback
***Please note, if out of stock at our warehouse, this title can be purchased at all good high street and online booksellers***