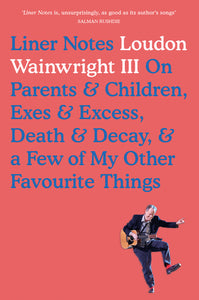 In the late 1960s, Loudon Wainwright III established himself as a determinedly independent talent. Then in 1972, at the age of 25, he wrote a song about a dead skunk and leapt from critic's darling to popular success.
Since then he's recorded twenty-seven albums, won a Grammy Award and sold-out the London Palladium...
As plain-speaking on the page as in his songs, Wainwright lays everything bare in this hilarious and heartfelt memoir of music and family. His lyrics adorn and inform the text, along with extracts from the brilliant work of his father, esteemed Life magazine columnist Loudon Wainwright, Jr.
'Liner Notes is, unsurprisingly, as good as its author's songs, with moments of sharp humour alternating with real-life pain, and vivid reflections on love, death, and the whole damn thing. Loudon Wainwright is a true original: not like anyone else, just as he set out to be.' Salman Rushdie

'An excellent book. 8/10.' Uncut Magazine
Publication Date: 26.10.17
ISBN: 9781785588464
Extent: 288 pages
Format: Hardback
***Please note, if out of stock at our warehouse, this title can be purchased at all good high street and online booksellers***