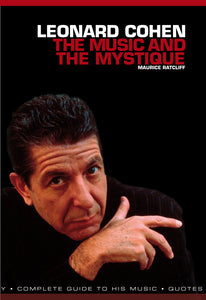 By Maurice Ratcliffe

Leonard Cohen: The Music and the Mystique provides an indispensable guide to the music of this legendary songwriter and musician, including a track-by-track analysis of every song recorded on officially released albums by Cohen, from his 1969 Songs of Leonard Cohen to his most recent studio album Old Ideas and live sets from the 21st century.
Features Include: 

A chronology of all the important events in Leonard Cohen's career. 

An album by album, track by track analysis.
Special section on compilation albums. 
Photographs and CD cover art. 

Publication Date: 05.01.12
ISBN: 9781780383026
Extent: 106 pages
Format: Paperback
***Please note, if out of stock at our warehouse, this title can be purchased at all good high street and online booksellers***