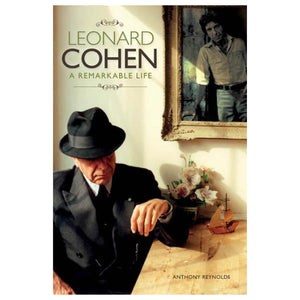 By Anthony Reynolds
Anthony Reynolds' fascinating and detailed biography draws on scores of new interviews conducted with Cohen's band members past and present, his business associates, editors, friends, fans, producers, colleagues, enemies and peers. 

As well as their revealing accounts, the author has gained access to hours of previously unpublished interviews with Cohen as well as video archive recordings from several decades. The book also includes an authoritative summary of every Cohen album, with insights and recollections supplied from the musicians who appeared on the recordings. 

Gradually, despite Cohen's own good-natured evasiveness over the past 40 years, a surprisingly frank portrait begins to emerge of the legendary figure who commands unparalleled loyalty from his fans and followers, young and old. From the distant days of his penniless beginnings as a much-praised poet in Montreal, through the travels, affairs and religious crisis to his latest tours, Cohen's extraordinary life and body of work is examined as never before. 

The book includes many previously unpublished photographs.
Publication Date: 13.06.12
ISBN: 9781780381596
Extent: 384 pages
Format: Paperback & eBook
***Please note, if out of stock at our warehouse, this title can be purchased at all good high street and online booksellers***
By buying directly from our site, you're supporting your publisher and authors. Read any eBook you purchase from us on the Glassboxx app, available on iOS, Android and Desktop.