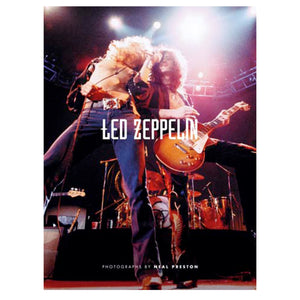 By Neal Preston
A spectacular photographic record of Led Zeppelin at their peak!
No one has captured the romance and mystique of Led Zeppelin on film more successfully than American photographer Neal Preston. His stunning collection of photographs shows Jimmy Page, Robert Plant, John Paul Jones and John Bonham in full flight, both on and off stage.
Preston was very much part of Led Zeppelin's inner circle. Camera at the ready, his unparalleled access to Zeppelin allowed him to document everything: their majestic performances from the sides of the stage, their travels on private jets, full band rehearsals and private pre-show moments in cloistered dressing rooms.
The result is this powerful collection of colour and black and white images that stands as the ultimate visual record of the greatest band of the Seventies.
Publication Date: 26.05.09
ISBN: 9781847726490
Extent: 192 pages
Format: Large Hardback
***Please note, if out of stock at our warehouse, this title can be purchased at all good high street and online booksellers***