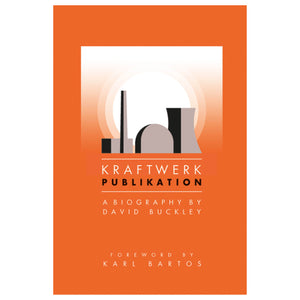 By David Buckley
With Foreword by Karl Bartos
***Updated to include details of the group's recent concerts under the direction of Ralf Hutter.***
Kraftwerk PUBLIKATION is more than the ultimate biography of a unique group; it's a book that stands beside Kraftwerk's own innovative albums as an apt and well well-crafted artefact in its own right.
As pioneers of electronic music Kraftwerk became the living, performing embodiment of a stripped-down and unique brand of German rock.  Records such as Trans Europe Express, The Man Machine, and Computer World were brilliant inventions that owed no debt to the prevailing music trends of their day.  Nothing about the classic Kraftwerk lineup of Ralf, Florian, Karl and Wolfgang was conventional and now, for the first time, a definitive account of their 40-year-plus history celebrates their trail-blazing credentials.
With contributions from Wolfgang Fluer and Karl Bartos as well as other musicians from the world of electronica, PUBLIKATION offers a fascinating window into the long life of a truly inimitable band.  This new edition updates the Kraftwerk story with reviews of recent concerts at art installations around the world.
Publication Date: 13.07.15
ISBN: 9781783059942
Extent: 336 pages
Format: Paperback
***Please note, if out of stock at our warehouse, this title can be purchased at all good high street and online booksellers***