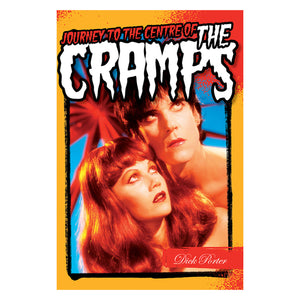 By Dick Porter
Based upon work and materials compiled for the acclaimed and now much sought after 2007 Cramps biography 'A Short History of Rock'n'Roll Psychosis', Journey to the Centre of the Cramps goes far beyond being a revised and updated edition: Completely overhauled, rewritten and vastly expanded, it now represents the definitive work on the group.
In addition to unseen interview material from Ivy, Lux and other former band members, Journey to the Centre of the Cramps also sees the Cramps' story through to its conclusion, recounting Lux's unexpected death in 2009, the subsequent dissolution of the group and their enduring legacy. The Cramps' history, influences and the cast of characters in and around the group are likewise explored in far greater depth.
Features unseen first-hand interview material from Lux Interior and Poison Ivy. A wealth of new interview material with former band members and other key players in the band's history and never before seen/rare photographs and ephemera to help illustrate the book.
Publication Date: 12.01.15
ISBN: 9781783053735
Extent: 336 pages
Format: Paperback
***Please note, if out of stock at our warehouse, this title can be purchased at all good high street and online booksellers***