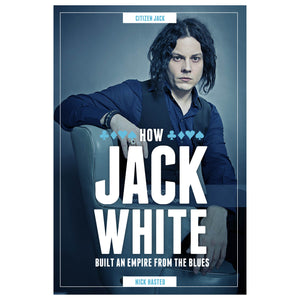 By Nick Hasted
'Hasted gets mythology, and this biography is peppered with details that make for alluring rock lore... It's a thorough and intelligent piece of music journalism' Cara Lennon, BMA Mag
The only biography of Jack White, widely considered the twenty-first century's most vital rock star.
Jack White is the "coolest, weirdest, savviest rock star of our time" (The New York Times Magazine). White is best known as the frontman for The White Stripes, where his guitar virtuosity and shrieking rock vocals outstripped speculation about his relationship with his drummer and ex-wife Meg White, who he often insisted was his sister.
Not content with launching a blues-rock revival in the early 2000s, White went on to collaborate with famous artists, including Loretta Lynn, Tom Jones, and Bob Dylan. In 2006, White founded The Raconteurs with Brendan Benson, and in 2009 founded The Dead Weather with Alison Mosshart.
He starred in the Academy Award-winning film Cold Mountain, married (and split up with) supermodel Karen Elson, and rejuvenated a flagging Detroit art scene by making his hometown the headquarters of his record label, Third Man Records.
But White is also a master of reinvention, trying on personas as they fit his changing tastes and priorities. The real Jack White--born John Anthony Gillis in 1975--can be difficult to pin down.
This is the only book yet to tell the full story of the 21st century's most influential rock star, based on interviews from people close to White, including former bandmate Brendan Benson and Third Man artists such as Neil Young and Seasick Steve. Not only that, it is the definitive history of the Detroit scene in which The White Stripes first flourished. No other book goes as deep into the lore of Jack White and The White Stripes.
Publication Date: 14.03.16
ISBN: 9781783058181
Extent: 304 pages
Format: Hardback
***Please note, if out of stock at our warehouse, this title can be purchased at all good high street and online booksellers***