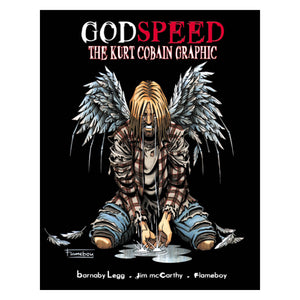 By Barnaby Legg, Jim McCarthy and illustrations by Flameboy
GodSpeed: The Kurt Cobain Graphic Novel tells Cobain's story in the format of a totally unique graphic novel.

Writers Barnaby Legg and Jim McCarthy have constructed their story using biographical fact interwoven with references to the singers tortured self-image. The vibrant art by Flameboy captures both the subjective dreamscape and the objective reality that form the heart of this examination of a tragic musical legend.

Much more than a biography, GodSpeed is unlike anything you have read about Kurt Cobain before. Going beyond the facts it transmutes an extraordinary life into an equally extraordinary work of art.
Publication Date: 07.03.11
ISBN: 9781849386999
Extent: 96 pages
Format: Paperback
***Please note, if out of stock at our warehouse, this title can be purchased at all good high street and online booksellers***