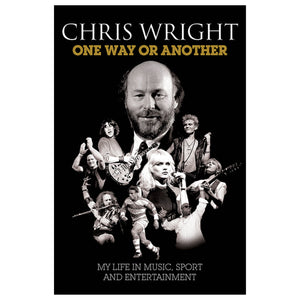 By Chris Wright
One Way Or Another is multi-millionaire rock, media and sport mogul Chris Wright's explosive autobiography.
In it, Wright lifts the veil on the wheeling and dealing that propelled his company Chrysalis to the forefront of the pop industry and how the fortune he made from rock enabled him to buy Queens Park Rangers FC, Wasps Rugby Club and a fistful of radio stations and TV production companies. Chris Wright signed bands like Jethro Tull and Ten Years After who were at the forefront of the British rock invasion of America that took place in the late sixties and early seventies, then went on to embrace punk with Blondie and Billy Idol, New Romantics with Ultravox and Spandau Ballet, 2-Tone stars The Specials and many more.
In a life story that reads like a 'Who's Who' of the rock business, Wright spares no blushes in telling tales of sex, drugs and financial blowouts that made some rich and left others by the wayside. Ever the entrepreneur, Wright remained at the heart of the unfolding story that has become the contemporary entertainment industry, subsequently taking the Chrysalis brand into TV and radio.  But his story goes beyond success in media and entertainment. In later years, Wright went on to own premiership football club Queens Park Rangers and rugby giants Wasps.
Interwoven with a personal narrative that has all the twists and turns of a best-selling novel, One Way Or Another is a remarkable, truly gripping story of life at the top.
Publication Date: 14.10.13
ISBN: 9781783052288
Extent: 320 pages
Format: Hardback
***Please note, if out of stock at our warehouse, this title can be purchased at all good high street and online booksellers***