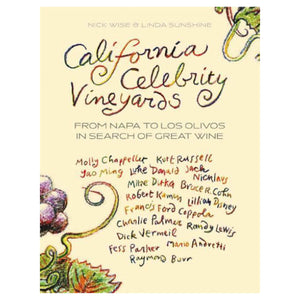 By Nick Wise & Linda Sunshine
While they travelled the world for their first book, Celebrity Vineyards, here authors Nick Wise and Linda Sunshine focus on California, the land of abundance, creativity, winemaking, and, of course, celebrities.
This new volume is filled with details of their travels, the wines they tasted, and the incredible men and women they met, all recounted in loving and often humorous detail. Includes interviews with artist Molly Chappellet and retired basketball player Yao Ming, actor Kurt Russell, golfers Luke Donald and Jack Nicklaus and legendary football coach Mike Ditka. The authors also revisited filmmaker Francis Ford Coppola.
Written for fans of wine, travel, and the rich and famous, California Celebrity Vineyards is a fascinating journey that will delight, charm, and educate your palate and your knowledge of winemaking.
Publication Date: 01.07.16
ISBN: 9781783059478
Extent: 304 pages
Format: Paperback
***Please note, if out of stock at our warehouse, this title can be purchased at all good high street and online booksellers***