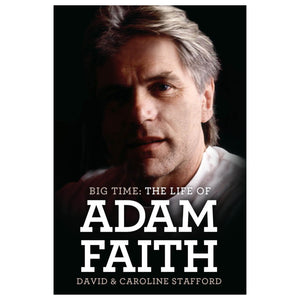 By David and Caroline Stafford
Most pop stars' fame used to end with their 25th birthday, but Adam Faith just kept on being interesting until the day he died aged 62. Born Terry Nelhams in working-class Acton, he defined post-war aspiration. Though his vocal talents were limited, he enjoyed an unprecedented run of seven top five hits. His chiselled features were a gift to TV (then a new medium), fans swooned each time he smiled, heavyweight journalists saw him as the 'Spokesman for British Youth' and his sexual adventures were the stuff of legend.
When The Beatles rendered his style of pop obsolete, Adam turned TV actor. As Budgie, the hapless Soho chancer, he played the character he might have become in life had it not been for his steely ambition and boundless energy. Then he reinvented himself again as a manager, famously guiding Leo Sayer to international stardom, before becoming a financial guru who made and lost several fortunes - not always his own. Terry Nelhams never quite got used to being Adam and saw his alter ego as having something of an independent existence: "Being Adam is like playing a part in a film," he said. "On the whole I prefer being Adam."
David and Caroline Stafford's witty and insightful biography, charts the glorious triumphs and often cataclysmic failures of a 'child man' who spent his life getting away with it.
Publication Date: 13.05.15
ISBN: 9781783055524
Extent: 288 pages
Format: Hardback
***Please note, if out of stock at our warehouse, this title can be purchased at all good high street and online booksellers***