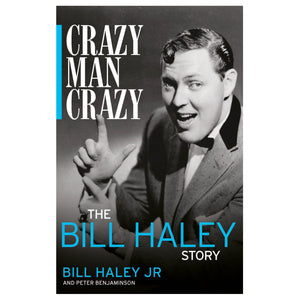 Crazy Man, Crazy: The Bill Haley Story is the first complete biography to uncover the mystery of the world's original rock n roll superstar.
Combining extensive interviews conducted with family members, ex-Comets and his father's business associates with decades of exhaustive research, Bill Haley Jr. illuminates both the public and private lives of his famous father for the first time.
Bill Jr and veteran rock writer Peter Benjaminson explore every aspect of Haley's career, including his unlikely transition from a yodeling Hillbilly entertainer and disc jockey to a chart-topping performer, as well as the racism, rebellion and delinquency that surrounded his rise.
Examining Bill Haley's precipitous fall from the top of the charts, his abandonment of two ex-wives and six surviving children and his prolonged descent into alcoholism, ending with his tragic and shocking demise at the age of 55, this moving story is the definitive account of the original King of Rock n Roll.

'The remarkable, sad story of one of music's pioneers... the biography's tales expose the underbelly of the 1950s.' The Telegraph

'Arguably the most intriguing back story of all his contemporaries. Charts the elder man's youthful delinquency and transition from hick crooner to DJ to international star with colour and atmosphere.'
Record Collector

Publication Date: 18.04.19 
ISBN: 9781785588327
Extent: 288 pages
Format: Hardback
***Please note, if out of stock at our warehouse, this title can be purchased at all good high street and online booksellers***