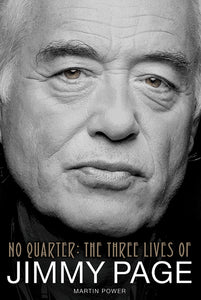 By Martin Power 
A genuine musical legend, Jimmy Page is best known as the mastermind behind Led Zeppelin, one of the most successful bands in the history of rock 'n' roll. As their leader, producer, principal songwriter and guitarist, Page not only shaped the sound of seventies hard rock but also created a musical and artistic legacy that stands him proudly to this day.
No Quarter: The Three Lives Of Jimmy Page explores the life, times and music of the man behind one of the 20th century's greatest bands. Using new and exclusive interviews, Martin Power tells the full story of Jimmy Page's long career, starting with the early sixties session scene before exploring Page's time in the Yardbirds, the band that would metamorphose into the legendary Led Zeppelin, who in turn dominated the rock world for 12 astounding years until breaking up in 1980.
Unstoppable, Jimmy Page began again, with film soundtracks and various collaborations, before striking out as a solo artist with 1988's underrated Outrider.
By the mid-nineties he had reunited with Led Zeppelin vocalist Robert Plant, twisting the blues into new, exotic shapes on albums like Unledded and 1998's Walking Into Clarksdale. A never to be forgotten one-night-only Led Zeppelin reformation in 2007 and his memorable appearance at the 2008 Beijing Olympics brought the Jimmy Page phenomenon into the 21st century.
Researched through candid conversations with Jimmy Page's friends, managers and musical collaborators, author Martin Power's No Quarter: The Three Lives Of Jimmy Page represents the most comprehensive and up-to-date biography yet written about Jimmy Page - a "one man Guitar army".
Publication Date: 10.10.16
ISBN: 9781783058211
Extent: 728 pages
Format: Hardback
***Please note, if out of stock at our warehouse, this title can be purchased at all good high street and online booksellers***