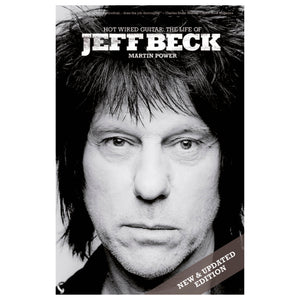 By Martin Power
This revised edition of Hot Wired Guitar brings Beck's story bang up to date, from his adventures at The White House in December 2012 with Mick Jagger and US President Barack Obama, to touring the world with Beach Boy Brian Wilson and the 2014 release of Jeff's latest solo disc.
The definitive account of Jeff Beck's journey from his childhood in 1940s South London to the world-wide success of 2010's album Emotion and Commotion and beyond. Author Martin Power has talked to former Yardbirds members Chris Dreja and Jim McCarty as well as manager Simon Napier-Bell and fellow musicians including Max Middleton, Stanley Clarke, Simon Phillips, Jimmy Hall, Mo Foster, Doug Wimbish and many others.
Supported by full album reviews, rare photographs and an up-to-date discography, Hot Wired Guitar is the most complete and comprehensive account of the life and times of Jeff Beck, the man who took the electric guitar and showed the world just what could be done with just six strings and 'one hell of an attitude'.

'Conscientious and methodical... (Hot Wired Guitar) does the job thoroughly.' Classic Rock 8/10

'An incredibly authoritative and fascinating account of Beck's journey from Forties South London to global success.' The Irish World

'A fulsome chronicle of one of the UK's best musicians' development...full of admirable gumshoe work by the writer.' Record Collector

'A well-researched and lovingly crafted book with plenty of new information for even the keenest fan.' The Afterword

Publication Date: 10.11.14
ISBN: 9781783055920
Extent: 520 pages
Format: Paperback
***Please note, if out of stock at our warehouse, this title can be purchased at all good high street and online booksellers***