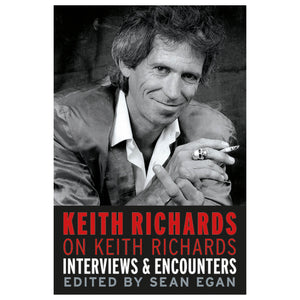 By Sean Egan
The iconic life and career of the famed guitarist of the Rolling Stones is detailed in this compilation of interviews that spans the last 50 years.
Featuring articles from GQ, Melody Maker, and Rolling Stone, as well as interviews that have never previously appeared in print, it charts Keith Richards's journey from gauche, young pretender and swaggering epitome of the zeitgeist to beloved elder statesman of rock.
Initially overshadowed by band mates Mick Jagger and Brian Jones, Richards gained popularity as half of the second-most important songwriting team of the 1960s, and in 1967 the drug bust at his house and his subsequent trial and imprisonment made him a household name.
His interviews match his outlaw image: free of banality and euphemism, they revel in frank stories of drugs and debauchery. Yet they also reveal an unexpectedly warm, unpretentious, articulate, and honest man.
This collection amply illustrates the magic and charm of Keith Richards.
Publication Date: 13.01.14
ISBN: 9781783053568
Extent: 288 pages
Format: Paperback
***Please note, if out of stock at our warehouse, this title can be purchased at all good high street and online booksellers***