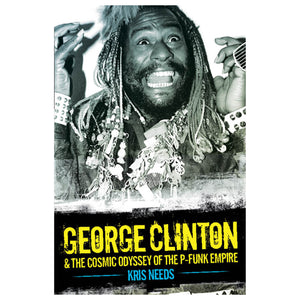 By Kris Needs
The first in-depth biography of one of music's most fascinating, colourful and innovative characters.
This book is the most comprehensive history yet of the life, music and cultural significance of the last of the great black music pioneers and the era which spawned him. Clinton stands alongside James Brown, Jimi Hendrix and Sly Stone as one of the most influential black artists of all time who, along with his vast P-Funk army took black funk into the US charts and sold out stadiums by the mid 1970s with his mind-blowing shows and legendary Mothership extravaganzas.
The book contains first hand interview material with Clinton, Bootsy Collins, Jerome Bigfoot Brailey, Junie Morrison, Bobby Gillespie, Afrika Bambaataa, Jalal Nuriddin (Last Poets), Juan Atkins, John Sinclair, Rob Tyner (MC5), Ed Sanders (The Fugs), Chip Monck ("The Voice of Woodstock") plus other P-Funk associates and friends.
The book presents an insiders' view of the rise of Parliament and Funkadelic from the doowop era and LSD-crazed early shows through to P-Funk s huge rise, the era of the Mothership and beyond.
Publication Date: 16.06.14
ISBN: 9781783051540
Extent: 376 pages
Format: Hardback
***Please note, if out of stock at our warehouse, this title can be purchased at all good high street and online booksellers***