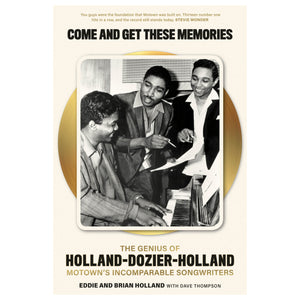 'Essential addition to the Motown bookshelf' Mojo
'This slice of pop-music history shares an insight into what it was like to really be there' Long Live Vinyl
'A vital piece of social and musical history' Choice Magazine
By Eddie and Brian Holland, with Dave Thompson
As the creative force behind Berry Gordy Jr.'s Motown Records in the mid-Sixties, a writing credit from Holland Dozier Holland was virtually a guarantee of chart success. From 'Stop! In The Name Of Love' to 'How Sweet It Is To Be Loved By You', they were the songwriting and production dream team responsible for some of the greatest songs of the twentieth century.
In this compelling autobiography, brothers Eddie and Brian Holland share their story for the first time, starting with growing up in Detroit raised by a single mother and their grandmother, before shining a light on their early musical careers. A gifted lyricist, Eddie started out as a solo singer with Berry Gordy as his manager before partnering up with Brian and Lamont Dozier, both talented arrangers and producers.
When Holland Dozier Holland came together, they helped transform Motown Records from a local soul label into a worldwide hit factory, home to international superstars such as Marvin Gaye, Martha & The Vandellas, The Supremes, Smokey Robinson, The Miracles, The Four Tops and The Isley Brothers. After an awe-inspiring tenure they left Motown in 1968, continuing their successes at new labels and with new collaborators for years to come.
Featuring honest and open first-hand accounts, Come and Get These Memories is more than just a behind-the-scenes look at Motown Records at its peak: Eddie and Brian set the record straight on both their personal and professional lives and offer a revealing slice of pop-music history.
Publication Date: 17.06.21
ISBN: 9781913172411
Extent: 368 pages
Format: Paperback & eBook
***Please note, if out of stock at our warehouse, this title can be purchased at all good high street and online booksellers***

By buying directly from our site, you're supporting your publisher and authors. Read any eBook you purchase from us on the Glassboxx app, available on iOS, Android and Desktop.